Beautiful Disaster by Jamie McGuire
Abby Abernathy is a good girl. She doesn't drink or swear, and she has the appropriate number of cardigans in her wardrobe. Abby believes she has enough distance from the darkness of her past, but when she arrives at college with her best friend, her path to a new beginning is quickly challenged by Eastern University's Walking One-Night Stand.

Travis Maddox, lean, cut, and covered in tattoos, is exactly what Abby wants—and needs—to avoid. He spends his nights winning money in a floating fight ring, and his days as the ultimate college campus charmer. Intrigued by Abby's resistance to his appeal, Travis tricks her into his daily life with a simple bet. If he loses, he must remain abstinent for a month. If Abby loses, she must live in Travis's apartment for the same amount of time. Either way, Travis has no idea that he has met his match.
Walking Disaster by Jamie McGuire
Finally, the highly anticipated follow-up to the New York Times bestseller Beautiful Disaster. Can you love someone too much?
Travis Maddox learned two things from his mother before she died: Love hard. Fight harder.

In Walking Disaster, the life of Travis is full of fast women, underground gambling, and violence. But just when he thinks he is invincible, Abby Abernathy brings him to his knees.

Every story has two sides. In Beautiful Disaster, Abby had her say. Now it's time to see the story through Travis's eyes.
My rate & take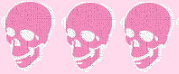 Heat Index: 1/2 ☼
Beautiful Disaster came out last year and I read a lot about it from its many fans. I was reluctant to read it because its detractors were almost equally vocal. Then I read the author was publishing a follow up that would be from the male point of view and I found that just intriguing enough to dive in. I made room on my reading schedule to read them back to back and found I really didn't need to go to all that trouble.
The only other time I have done a similar reading was the partially finished Midnight Sun written by Stephanie Meyer. Midnight Sun follows the male lead (Edward) in Twilight. I will admit I was a big Twilight fan but gushing aside Stephanie had it the right way, you learned so many new details about the internal thoughts and emotions of Edward that it really was an original book all on its own.
To me it seems there is a right way and a wrong way to write the he said/she said books, I think if an author is going to tackle it, it should never be a glorified re-write of the original book. And much of Walking Disaster is just that, almost an exact copy of Beautiful Disaster,
with only a few fresh insights.
Since reading one is enough I recommend reading Walking Disaster because at the end you get a nice section that talks about the main character's lives 11 years after the ending in Beautiful Disaster, and I love when I get that little bit of extra!!
Even with my disappointment I still liked the characters and the voice the author gave them.