Audrey's Guide to Black Magic by Jody Gehrman
Sometimes you have to fight black magic with blacker magic. But in trying to save the people she loves, will Audrey fall into the dark abyss that claimed her father?

In Book II of the Audrey's Guide series, Audrey learns about her witchy roots and continues to fight her nemesis; this time she must dig deeper than ever, experimenting with dark magic to combat the insidious enchantment that's invaded her newfound community. She travels to the magical compound on the Mad River, the home her mother fled twenty years ago. Here Audrey meets her grandmother, the powerful matriarch of the Clan, and a host of colorful characters, some friends, some foes. When a sinister force begins to take over the magical community, Audrey must decide how far she's willing to go to protect the people she loves.
Rate & take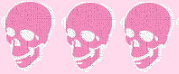 I'm happy to report this second title in the Audrey's Guides series (and the last one that I am aware of) was most definitely an improvement over book one. All around it was an enjoyable, quick read. There was a good bit of time spent with "the" guy, the plot moved nicely with action, and the ending gave good closure to the tale. Also the author smartly left just enough last words that could lead to a third book if she so choose.