Secrets
The Complete Collection (Omnibus Volumes 1-5) by H.M. Ward
Sex is supposed to be sexy, tantalizing, and completely erotic, but Anna never seems to find the right guy. This one seems to be a germ-a-phobe, and the previous boyfriend wasn't much better. Anna just wants to be wanted. Is that too much to ask?

As Anna tries to wiggle out of one relationship, a new one surfaces, but it's forbidden. Cole Stevens is twice her age, arrogant, rich, and sexy as hell. To make matters worse, he's her boss and her teacher.

When Anna's internship plans derail, she ends up working at Cole's elite New York City studio. Close proximity leads Anna to discover that the billionaire bachelor is emotionally scarred. Everyone has secrets, but Cole's run deeper, cutting him to his core. Cole is trouble in a sexy shell. He's nothing Anna needs and everything she wants.
Rate & take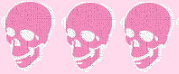 Heat Index
1 ☼
I enjoy H.M. Ward so much as an author. She writes solid characters with believable dialog and plot twists. And her steamy scenes are a lot of fun to read.
This particular story takes place in the photography world in NYC and I find it refreshing when books delve into the creative process involved in other arts. This story was very satisfying on many levels. And by buying this version you get the whole story from beginning to end, no waiting on future editions...the only down side that I noticed (because I read so many H.M. Ward titles) was that this tale didn't have quite the impact some of her other stories have, thus the 3 skull rating over my usual 4 for her works. Still a decent read all in all.