Blood Lust by Zoe Winter
This is an anthology of: Kept, Claimed, and Mated.

KEPT:

… The enemy of my enemy is my lover. Is that how it goes?

No one should have to be on the run from their family. Family is who you can trust, right? Dark magic users are the ones on the don't trust list. Yet, when Greta learns the werecat tribe plans to sacrifice her on the full moon to steal her potent magical blood, she ditches common sense in favor of running to the one man who can protect her. Will Dayne kill her as he has so many others of her kind, or is his grudge against her family strong enough to save her?

CLAIMED:

… Vampires claiming amnesiacs is the new black.

Anthony is cold, ruthless, undead, and hard to like. Yet, all it takes is one human with amnesia, to soften his heart. Ever since being bitten, Charlotte hasn't been the same. More than anything, he wants to return to a time when she saw him for the man he is, instead of the monster she's discovered. A time before she feared him.

In the midst of a power struggle for vampire king, it soon becomes clear that the only way to protect a fragile human in his care is to claim her as his mate. Meanwhile, his deepest wish is to have his lover awakened from the memory loss that took everything... not just the memories he meant to erase.

MATED:

A classic, sweet werewolf love story. Or maybe not.

Be small. Be invisible. It's an odd life mantra for a human woman in a world of monsters. But Jane's blood contains a touch of vampire magic, making her their victim over and over. With her faster-than-normal healing time, she's an ideal punching bag for the abusive vampire she's been living with, the one she thought might protect her this time.

Paul owes a debt to the werewolf alpha, and Cole doesn't care how he gets paid: flesh or coin. $10,000 or Jane? The human is a small price for the vampire to pay to be debt-free.

Cole is attractive and warm---so different from the coldness and death Jane has grown used to. If the werewolves didn't have a worse reputation than the vampires, being taken by the alpha might feel like rescue, but Cole's growing possessive nature, makes Jane fear he'll only abuse her like the others. If he doesn't, could becoming an alpha's mate free her from the vampires for good?
My rate & take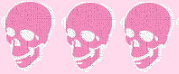 Heat Index

(1)

☼
I'll admit it....I didn't read the fine (or not so fine print) and didn't get that this was an anthology pieced together from three short stories from the author. Part of the reason I missed that is some of the characters go from story to story, the only big shift seemed to be which two main characters were the focus of the story. My blond moment(s) never got in the way of my enjoyment of the stories. They book itself seemed to have it all, a crabby wizard, werewolves, shifters, vamps, a half-ling, and one cheeky demon. Each story was as entertaining as the last and even though each story had a very nice ending, I still want more of those characters.