Storm by Brigid Kemmerer
Becca Chandler is suddenly getting all the guys; all the ones she doesn't want. Ever since her ex-boyfriend spread those lies about her. Then she saves Chris Merrick from a beating in the school parking lot. Chris is different. Way different: he can control water just like his brothers can control fire, wind, and earth. They're powerful. Dangerous. Marked for death.

And now that she knows the truth, so is Becca.

Secrets are hard to keep when your life's at stake. When Hunter, the mysterious new kid around school, turns up with a talent for being in the wrong place at the right time, Becca thinks she can trust him. But then Hunter goes head-to-head with Chris, and Becca wonders who's hiding the most dangerous truth of all.

The storm is coming.
My rate & take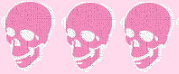 AND 1/2

I have a soft spot in my heart for YA (young adult) books. There is some really great story telling going on in the genre and this title (book 1 of the Elemental series) is every bit the page turner as well. Imagine going through the typical teen girl tortures when you come across a family of boys that have loads more problems than you do, problems that could get you harmed or killer just for being seen around them.
I hope to return to this series once I knock a few scheduled books off my TBR list.
Summer is fast approaching for some of us...what do you plan to read this summer?