Inferno by Dan Brown
In the heart of Italy, Harvard professor of symbology Robert Langdon is drawn into a harrowing world centered on one of history's most enduring and mysterious literary masterpieces . . . Dante's Inferno.

Against this backdrop, Langdon battles a chilling adversary and grapples with an ingenious riddle that pulls him into a landscape of classic art, secret passageways, and futuristic science. Drawing from Dante's dark epic poem, Langdon races to find answers and decide whom to trust . . . before the world is irrevocably altered.
My rate & take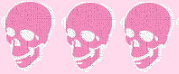 I was a big fan of the author's Angels & Demons and was looking forward to the publication of this latest adventure of Professor Langdon. When the date arrived I downloaded it and began reading right away. Then I spent most of my reading time struggling to finish it. I don't know what went wrong...was it me? Did Mr. Brown set up a page count in advance of writing the book and then fill the blank spots with seemingly endless amounts of history/art history lessons (not saying that was all bad) and doom and gloom lectures about the earth resources being outpaced by unchecked population growth? It did pull together nicely at the end - that is the reason I gave it a third skull. I wanted and tried hard to love it but it just wasn't meant to be. Maybe this title would fare better in the hands of another reader.