Rock Chick Renegade by Kristen Ashley
Jules has got a score to settle against the drug dealers of Denver. Vance has made it his mission that Jules won't get dead while dishing out vigilante justice. Jules doesn't have time for romance, she's too busy saving the world and she enlists Zip (the gunstore owner), Heavy (an ex-PI) and Frank (a mysterious recluse) to help.

The Rock Chicks of Fortnum's Bookstore get involved to provide romantic advice and guidance, none of which Jules accepts at first. The Hot Bunch of Nightingale Investigations adopt Jules as one of their own. Even though Jules tries to hang on to her inner Head Crackin' Mamma Jamma, the Rock Chicks; Hot Bunch; Jules's long-suffering Uncle Nick; Jules's friend the rotund, African-American, Jackie-O wannabe, May; and especially Vance will stop at nothing to wear her down.

But Jules makes some bad guys pretty angry and one is dedicated to taking her out. Vance and the Hot Bunch have to pull out all the stops to keep her alive. At the same time, Jules and Vance learn the true meaning of home but once they find this precious entity they've been searching for all their lives, will Jules's enemies tear it away?
Rate & take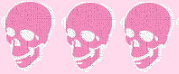 Heat Index

3 ☼☼☼
I am still happily rolling along with the Rock Chicks and enjoying the ensemble cast as they adopt new members along the way on their dangerous adventures. This particular adventure was more dangerous than any of the others.
I loved the character of Vance and was so happy that his book had finally arrived, I really enjoyed his personal story.