Since I am reviewing the whole trilogy together I decided to change my normal format for this occasion.
The Pearl Trilogy by Arianne Richmonde
- Forty Shades of Pearl -
Documentary producer, Pearl Robinson, is a beautiful and smart forty year-old divorcee but has not had a date for over two years. When she hears about Alexandre Chevalier, a young French, Internet success story, she assumes he is a nerd. But when she bumps into him face to face she's stunned by his charm, beauty and sophistication, and startled by her strong feelings and desire for a man fifteen years her junior. His looks, wealth and worldwide triumph with his social media site, HookedUp, means he can get any woman he chooses, but there is something about Pearl he finds irresistible…
- Shadows of Pearl -
Pearl Robinson feels like the luckiest woman in the world. In just a couple of months she is to be married to the man she's head over heels in love with: the wonderful and charismatic Alexandre Chevalier, fifteen years her junior and founder of the billion dollar social media sensation, HookedUp.
But Pearl is convinced that Alexandre's sister and business partner, Sophie Dumas, has other, darker ideas. And the shadows of Pearl's past come back to haunt her in ways she could never have imagined...
- Shimmers of Pearl -
Pearl Robinson's life was teetering on the edge of perfection. Everything was about to blossom, not least a marriage made in Heaven with her fiancé, Alexandre Chevalier - the kindest, sexiest, most handsome man she could ever have wished for. But her own insecurities, fears and murky shadows from her past led her to make certain choices that could change the course of her fate altogether.
Pearl now finds herself alone and bereft, a victim of unexpected Deceit. She has been lied to… tricked. But by whom?
Another reviewer of one of these books said the read felt like it was written by two different people. I didn't disagree at the time, but upon further reflection I decided it felt more like it was the same person writing.....just with a Jekyll & Hyde flair. For my purposes here Hyde does a decent job with some of the writing, describing Paris, and creating much of the steamy scenes . Jekyll has much more writing time and makes the characters say and do really silly/crazy things that seemed so out of context that I start wondering about the strength of my own sanity.
So why did I stick with it through the whole series?
1) I'm a little crazy like that, hoping somehow madness will evolve into order.
2) There just aren't enough good books to satisfy my need to read!
3) I knew I would get my happy ending, no matter how sappy.
I by no means hated the trilogy and in fact found I could almost hear the sexy French accent the main male character had and the steamy scenes were overall, well, nicely steamed.
So my rating for the series is: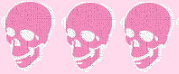 It was almost going to be 2 and 1/2 but the steam gave it the edge.
Heat Index: 3
☼☼☼ to sometimes 5
☼☼☼☼☼