Release Me by J. Kenner
He was the one man I couldn't avoid. And the one man I couldn't resist.

Damien Stark could have his way with any woman. He was sexy, confident, and commanding: Anything he wanted, he got. And what he wanted was me.

Our attraction was unmistakable, almost beyond control, but as much as I ached to be his, I feared the pressures of his demands. Submitting to Damien meant I had to bare the darkest truth about my past—and risk breaking us apart.

But Damien was haunted, too. And as our passion came to obsess us both, his secrets threatened to destroy him—and us—forever.
Disclosure: I obtained this book free of charge via Net Galley for the purposes of review. It was released for publication on 1/1/13.
My rate & take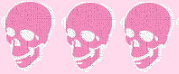 AND 1/2

Even though this book
riffed from Fifty Shades of Grey it still had enough of its own flavor to make the read enjoyable. This is book one in The Stark Trilogy and I am looking forward to book two. I feel like we learned much about the female lead, Nikki, but not as much as I would have liked about our male lead, Damien. That I am hoping will come in book two. I thought the pacing of the story was very good until the end, which at first I thought was rushed, but then I realized it must have been designed to give a gentle ending rather than an frustrating cliff hanger, for which I am very grateful. I loved the balance of story with steamy, very nice!