Twice the Growl By Milly Taiden

Talia Barca needs a date. Badly. She uses the services of the Paranormal Dating Agency hoping for a decent guy to take to a family wedding. A wedding her ex-husband has wormed his way into as a guest.

Connor and Theron want Tally to complete their Alpha triad. She's sexy, curvy and funny. But she's human. And they're not sure she'll go for a relationship with two men at the same time.

As if deciding to give two men a shot wasn't difficult enough, Tally will also need to deal with a threat from the pack. She'll either prove she's strong enough to be an Alpha mate or find herself at the mercy of a vicious opponent.

Reader Warning: This book contains lots of scorching sex (including a threesome so hot it will make your ereader sizzle), adult language (hanky panky with no dirty talk is no fun), and violence. If this is not the kind of stuff you like to read, skip this book. However, if you like dirty, raunchy sex with some sarcasm and two hot men on one curvy girl, then this is the book for you.
Rate & take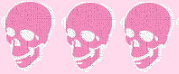 I've taken the liberty of putting in bold the 'reader warning' that was posted in with the book blurb, it states the situation better than I could....and has the benefit of being very accurate. I won't lie, I did enjoy the book and it did sizzle. It also has the bonus of being cute in parts too. If you like your reads hot and brief this book should be something you put on your TBR (To Be Read) list or your ereader queue.