Captivating Bridge by Michelle Mankin
Warren "War" Jinkins is that guy.
The bad one.
Tempest's ex front man, an arrogant rock god.
The only thing larger than his ego is his capacity for self-destruction.
His bad attitude has cost him. His woman. His best friend. His band. Everything.
Shaina Bentley is that girl.
The good one.
Hollywood's pink candy-coated sweetheart.
The star of Pinky Swear, television's top rated teen show.
She's been practically perfect since that horrible day. But she's starting to crack under the strain of being everything to everyone.
He's a one man island. She's a fragile captive soul.
Is love a current too dangerous to cross or will it be the bridge that brings them together?
Rate & take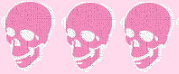 I got this as a free or deeply discounted book from one of the nifty email services I subscribe to that bring goodness (and savings) the my email box each day. (See this page for the services I use). I had no idea, until I finished it, that it was book three in a series. It read great as a stand alone and I didn't feel like I was missing any crucial details. Kudos to the author for that! I enjoyed the book but don't feel the need to either go back or move forward in the series at this time, mostly because I know the story will move on from these two main characters and I liked them too much to just move on. Who knows, maybe one day I will change my mind on that.