Born of Stone by Missy Jane
For seventy years, Orestes and his twelve gargoyle brothers have done their duty to protect King Kadmos's realm. There's only one annoyance in his life—humans.

He's content to leave them to their idol worship. Until he notices a small, frail woman serving at his table, doing her best to remain invisible. Something about her calls to him like no human before.

Astrid is terrified. Not only of the powerful magical creature with inhuman strength, but of the staff overseer's lash for calling attention to herself. Instead she is whisked away to paradise, bathed, fed, and made love to by Orestes as if she is his reason to live. But she isn't naïve enough to believe she is anything more than a temporary diversion.

When Orestes is called away to search for a missing brother, Astrid is kidnapped by a traitor intent on using her to bend Orestes to his will. Little do the lovers know that the connection between them is no weakness, but a strength their enemies would be fools to underestimate…

Warning: This book contains paranormal fighting, steamy sex scenes, strong-willed females, and men made of stone who prove to be soft as butter in the right woman's hands.
Rate &
take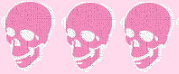 Heat Index
3 ☼☼☼
I jumped on this book from Samhain Publishing without noticing it just came out. Imagine my surprise when my hopes were dashed for a few, or even one more book to join this title that was clearly written with a series in mind. I hope the author is a quick writer, because I will be waiting.
I found the idea of a human-ish man that can turn into a stone warrior at will to be a unique idea. The story was entertaining, and nicely paced. I would recommend this for beach consumption or anytime lite enjoyment is on the reading menu.