Promise Me Darkness by Paige Weaver
For me, life was simple. I went to school and studied. I spent time with my friends and stayed out of trouble. I didn't drink or swear and I only dated gentlemen. I was the typical good girl with a bright future. My world seemed perfect.

But that was about to change.

Ryder Delaney was the one imperfection in my life. He was the bad boy, the black sheep, the one your mother always warned you about. He had only one hard-and-fast rule - Don't fall in love.

But some rules were meant to be broken.

We were best friends, inseparable since childhood despite our differences. I knew the real man hiding behind the tattoos and bad attitude. He knew all my secrets and dreams. But he didn't know there was one thing I wanted and couldn't have...him.

But sometimes Fate has a way of intervening. Soon our world collapsed. War erupted. Darkness prevailed. Alone and on the run, our only goal was to survive and to ignore the feelings we had for each other. But love is powerful...

and so is the darkness.
Rate & take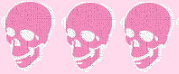 Heat Index

1 ☼
I am still shaking my head at this one...not at all what I expected. But that is not to say that I didn't enjoy it, I did, well enough to buy book two and start on it as soon as I hit 'publish' on this entry. Book two is the conclusion to the series so at least I won't be plagued with my need to know.
The thing that caught me most off guard by this title was not that love could bloom in the end-of-the-world type times, but more that the author really made it work. The only negative I can say is that I found at several points in the book I would have loved to slap some sense in the main female character for making some colossally stupid decisions, but I guess that all adds to the tension.
I am off to read!