Bound by Blood by Tracey Jane Jackson
Dr. Samantha Moore is one of the youngest and most acclaimed researchers in the world. Her specialty is blood and she has been recruited by the largest pharmaceutical company in Scotland. For what purpose she cannot begin to imagine, but in an attempt to break out of her painfully shy shell, she throws caution to the wind and leaves her family and best friend behind in Savannah.

Dr. Kade Gunnach is taking a chance hiring an outsider, but he's desperate to find out how to help his sister. He believes the key lies in her blood, but so far, no one has found the answers. When the new researcher walks into his office, he's unprepared for his reaction to her and the life-changing ramifications her arrival brings.

They're drawn together by a force neither is prepared for, but Kade is holding something back. Something that could scare her away.

When Samantha learns his secret, will she run?

Will Kade be able to live with the answers he's been desperately searching for?
Rate & take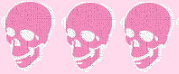 I think it's fun that there are more than a few books that give the men in Scotland some interesting abilities....this book and the follow up book Bound by Fire (which will be reviewed next on this blog) are no exception, and I love it!
I won't give much away, but I will say these special guys all mate for life once they found their true one and only, and that sure makes this girl swoon. As for the overall story it was an enjoyable read, lite and fun with a small bit of intrigue thrown in for good measure.