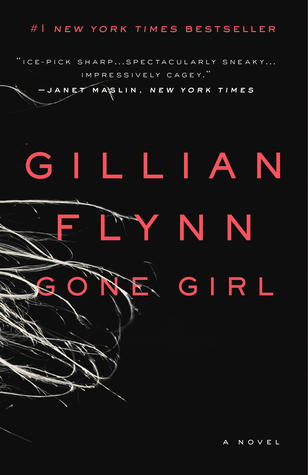 Gone Girl by Gilliam Fylnn
On a warm summer morning in North Carthage, Missouri, it is Nick and Amy Dunne's fifth wedding anniversary. Presents are being wrapped and reservations are being made when Nick's clever and beautiful wife disappears. Husband-of-the-Year Nick isn't doing himself any favors with cringe-worthy daydreams about the slope and shape of his wife's head, but passages from Amy's diary reveal the alpha-girl perfectionist could have put anyone dangerously on edge
.
Under mounting pressure from the police and the media—as well as Amy's fiercely doting parents—the town golden boy parades an endless series of lies, deceits, and inappropriate behavior. Nick is oddly evasive, and he's definitely bitter—but is he really a killer?
Rate & take

***I could not resist the song title because this book truly is from a club....it's the very first book to be reviewed by our newly formed and yet-to-be-named, book club at work.
At the end of this review I will share with you the first found of books that have been selected by each member of the group. I also hear that once the crazy days of summer are over we will get even more takers!! I hope this is a good thing since my first three tries at a book club did not work out so well.
The review; My first thoughts were, "I did not see that coming." This was a thought that came to me more than once during this read. Layer upon layer of things being not quite as they seem and then terrifying when I stepped back to consider how it all fit together. And knowing that it's not impossible from happening in real life, It's like I said, terrifying. Oh, and brilliant too. The writing was smooth and let me hang just enough before an answer was given to the question about to form on my lips.
This book should lend lots of material for book club discussion...I'm just afraid our lunch break will be too short to cover it all.
As promised, here is a list of our book club choices so far...
August 2014 Gone Girl by Gillian Flynn
September 2014 Major Pettigrew's Last Stand by Helen Simonson
October 2014 In the Time of Butterflies by Julia Alvarez
November 2014 PlainSong by Kent Haruf
December 2014 Comstock Lode by Louis L'Amour
I think in December we will pick the next round. Wish us luck!!