The arrangement 12 by H.M. Ward
There is so much blood that I can't think. The night goes from bliss to chaos in a matter of moments.As the truth begins to unravel, it's clear that I can't trust anyone, except Sean Ferro. The same man that threatens to destroy me could also be my salvation--and I could be his.
Rate & take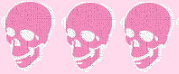 Heat Index

3 ☼☼☼
So, here I am....12 installments in and still just as ready to plunk my money down for more, as I was after reading installment one. I am mystified as to how H.M. keeps it all going....but I will say she is very talented with the cliff hangers. The past shorts (these are all novella length) I'd given 4 skulls to - this got one less due to what I thought was a little less action. Not to say it was devoid of action, just less than I'd hoped for. Could it be that no matter how great the story is that I am looking for closure, or at least the light at the end of the tunnel? Maybe. I think I am just greedy to finally have the whole picture.