Shadow of Night by Deborah Harkness
My rating: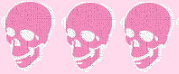 My summary: In book two of the trilogy we continue our journey with Diana and Matthew in a world populated with vampires, witches, daemons and humans.
My take: I was so excited to read this book especially after my wonderful experience re-reading A Discovery of Witches. Sadly though, some of the going got tough. There we several chunks that just dragged for me. I felt as though Ms. Harkness' academic knowledge was let a little too free and dimmed some of the magical spark the story has.
Even though I was disappointed by this particular book in the series, I do plan on reading the third and final book once it is published.