If I Were You by Lisa Renee Jones
My rating: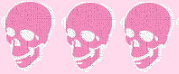 My summary: An unassuming school teacher is given the key to a storage locker that has been left unpaid. Inside is the belongings of another woman's life and the mystery of where this woman is takes her places that she never expected to be.
My take: I will say the first several pages weren't great and I wondered if the tone was set for the rest of the book, happily it was not and I found I very much enjoyed the remaining story. This is book one of a trilogy and I will look forward to read book 2 and 3. I will say the end totally caught me off guard, I have read my fair share of books with cliff hangers but this one takes the prize for highest cliff.