Hidden Moon by K.R. Thompson
The first installment of the Keeper Saga, Hidden Moon is a story of danger, romance, and magic. Seventeen year-old Nikki Harmon knows that her life will never be the same. Forced to move after her father's death, she is determined to keep what is left of her family together, even if she can't get cell service. What she doesn't know, is that she will encounter mythical creatures in her quest to solve the mystery of the Trail Killer, and that she will be torn by her feelings for two very different guys. As she unearths the deadliest secret of all--will she lose her heart to one of them, or will she lose her life?
Rate & take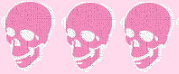 This was a quick and likable story. The setup was similar to Twilight without the burden of amazingness [sic]. I can't say there were any surprises in the plot and every now and then the female lead seemed to lose her backbone and slip into helpless victim a little too well. This review is starting to sound a lot more like I disliked the book, but really it was a nice way to pass a few hours with some paranormal creatures. I am very visual when I read and can picture people and landscapes easily, this book gave me some very nice visual cues.