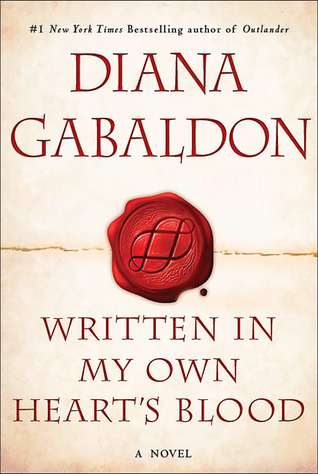 Written in My Own Heart's Blood by Diana Gabaldon
WRITTEN IN MY OWN HEART'S BLOOD is the eighth novel in the world-famous OUTLANDER series. In June of 1778, the world turns upside-down. The British army withdraws from Philadelphia, George Washington prepares to move from Valley Forge in pursuit, and Jamie Fraser comes back from the dead to discover that his best friend has married Jamie's wife. The ninth Earl of Ellesmere discovers to his horror that he is in fact the illegitimate son of the newly-resurrected Jamie Fraser (a rebel _and_ a Scottish criminal!) and Jamie's nephew Ian Murray discovers that his new-found cousin has an eye for Ian's Quaker betrothed.
Meanwhile, Claire Fraser deals with an asthmatic duke, Benedict Arnold, and the fear that one of her husbands may have murdered the other. And in the 20th century, Jamie and Claire's daughter Brianna is thinking that things are probably easier in the 18th century: her son has been kidnapped, her husband has disappeared into the past, and she's facing a vicious criminal with nothing but a stapler in her hand. Fortunately, her daughter has a miniature cricket bat and her mother's pragmatism.
Rate & take
At last my wait finally came to an end, and this book was well worth it. It felt so good to be with my favorite book family again, I've missed them so much!! I wanted to read this book slowly but that did not happen, I gobbled it up in 6 days. Not to worry, there is always the re-read, and then the audio version that is always read brilliantly by the amazing Davina Porter. Another wonder of this gem is that it did not end on the cliff hanger!! So now however long it takes for the author to write the next book I won't have to wonder and worry too much about the fate of my beloved characters.