The Playmaker by Dakota Madison
Kian Kavanagh, Mr. Fire on Ice, has just been called up to play hockey for the NHL's new expansion team in Seattle. Finally playing in the NHL is a dream come true...except for one thing. Kian has to leave Northern Arizona and the love of his life, Taylor Thompson, to pursue his dream.
Taylor Thompson thinks she's got life figured out. She'll finish her final semester of college then move to Seattle to attend graduate school and be with her man. Until one fateful night when Taylor's world is complete shattered and everything she's ever wanted--everything she's ever hoped for--is called into question.
Will Kian's love be enough to help put Taylor's shattered world back together again or will tragedy tear them apart?
Rate & take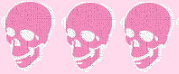 Heat Index
1 ☼
This is the follow up book to Fire on Ice and was very enjoyable. It's one skull less in rating only because I thought some of the obstacles were a bit easily over come. Still a very enjoyable read and I am so glad I found this new author.